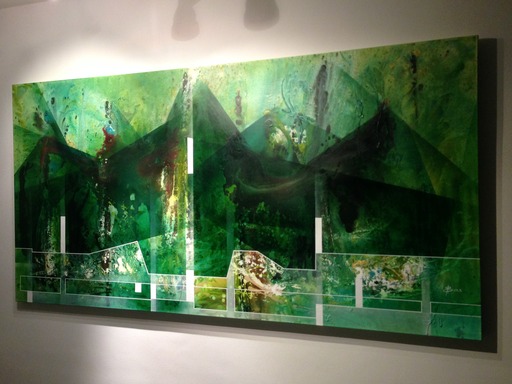 In many cases, a custom-made painting is not only desirable but also the only possible solution. Especially when one is looking for a large format painting. In such a case, the search can be very difficult, taking into account essential factors such as style, expression and color. Everything has to fit exactly. As a visual artist and architect, I completely understand and agree.
If you landed on this page and you are reading this because of your interest in my paintings, I can hopefully somewhat reassure you. I would not only like to advice you but would also like to help to step into this creative process together and create a stunning painting. The size does not matter to me. A lot is possible.
Thus, for example, it is possible to make an artwork that is related to the architecture and design of a home or building. Also containing concept or conceptual realization in it's creative process. The result is a unique work of art that is connected as one with the building in the essence of the whole creative process, the experience and the visual image. My painting called OVG (see photo topright) in the series Art & Architecture is a perfect example of such an artwork.

Such a painting can also be developed during the construction process of a building, so that it could be presented as a unique and fitting gift at the grand opening.

Please contact me via the comment page to inquire about the possibilities.